The Emerald Ballroom is the perfect space for your wedding and reception, featuring the delicious cuisine and dedicated staff you would expect for your special day.
With room for up to 400 guests, choosing our Emerald Ballroom for your Cleveland wedding venue means you won't have to leave any of the family out. This elegantly designed ballroom features customized lighting and a variety of adaptable layouts to make your event truly one-of-a-kind.
Contact Us For More Information
And to increase the versatility of your layout options, conveniently connected to the ballroom is our pre-function area, which is useful for your receiving line, gift tables and social hour.
Our Wedding and Reception Services
We offer a wide variety of services that go above and beyond other wedding venues in Cleveland, Ohio. These services include:
Additional wedding decoration and set-up
Video presentation set-up
A programmable state-of-the-art lighting system
Complex-wide Wi-Fi
Personalized event planning and detailing
Catering prepared on-site by expert chefs
On-site optional valet parking
And best of all, the Emerald Event Center's Cleveland wedding venue is attached to the Residence Inn by Marriott Cleveland/Avon, which offers 116 oversized bedrooms at special room rates for weddings.
These rooms are 50% larger in size than traditional hotel rooms and are perfect for wedding parties and guests, providing:
In-suite kitchens
Full-size refrigerators
Microwaves
Stoves
Dishwashers
Complimentary grocery delivery
Complimentary daily breakfast
Additionally, as you prepare for your special day, we are happy to assist you during your wedding planning process, answering any questions you may have and making suggestions to ensure everything about your experience will exceed your expectations.
Other Wedding Venues in Cleveland Can't Match Our Premier Catering Services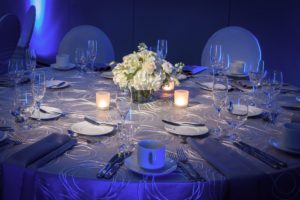 One of the most important aspects of your wedding planning involves meal selection. Finding the right dishes to fit your and your guests' needs, and to make your experience as memorable as possible, is vital.
Our skilled chefs, dedicated waitstaff and experienced management team are proud to be able to help you in planning this key aspect of your reception.
Some of the great services and amenities our wedding venue in Cleveland, Ohio can provide include:
One complementary menu tasting for six, 2-3 months prior to the event
Champagne toast for you and your guests
Four-hour hosted ballroom dinner reception and brand bar service
Complimentary cake cutting service
All necessary standard tables, chairs, flatware and glassware
House linen and table centerpieces
And with numerous meal options available, featuring a variety of entrées, sides, hors d'oeuvres, desserts and beverages, you can be confident you'll find the perfect selections to make your reception an elegant affair.
For further information about everything our catering services can provide, be sure to visit our Emerald wedding experience page.
Reach Out to Our Cleveland Wedding Venue
We recognize that every wedding couple has unique needs and budgets, and we welcome the opportunity to customize your event to fit perfectly within your boundaries.
All of our wedding packages for the Emerald Event Center at the Residence Inn by Marriott Cleveland/Avon are designed to give you the best value, which makes us one of the premier wedding venues Cleveland has to offer.
Contact our sales team today for more details about our wedding packages and how we can help make your special day the magical event you have always wanted.